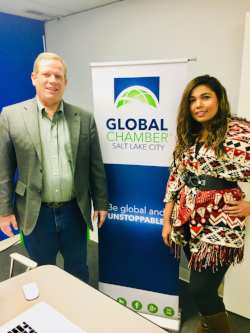 Thank you Tim Hunt of inWhatLanguage for sharing your expertise in today's globinar on Cross Cultural Communication.
Tim spoke on Evaluating Technology and Challenges with Video Translation.
Tim is responsible for all the design and development of Unify, The Translation Management Cloud. He brings 30 years of translation industry experience to the position and 16 years of software development management. Previously Tim was the President and co-founder and designer of Quick Request a service sensing technology for facility management. He was formerly the President of Go Natural CNG in alternative fuel vehicles focusing on natural gas powered vehicles for Freightliner and GM. He was also the general manager of North America for Certiport, who is the sole provider of Microsoft Office and Adobe certification exams worldwide. Prior to that Tim was the founder, CEO, and Chairman of the Board of Lingotek. Tim developed the algorithms for Lingotek's in context searching called the Language Search Engine. Under Tim, Prior to his foray into being an entrepreneur he supervised scripture translation worldwide in 85 different languages and 47 countries for the Church of Jesus Christ of Latter-day Saints. For 14 years, he spent 3 months of every year overseas in 40+ countries. Tim received his MBA from the University of Utah, where he was also awarded the 2002 Utah Outstanding Student Entrepreneur of the Year. He was also awarded a Top REVenue GENerator award in 2014 by Mercato Partners, Silicon Valley Bank and Diversified Insurance Group.